In the past few weeks, I've been working to add more depth to the game, and finished up some of the major systems. The biggest set of changes has been with the rooms, switching up how they worked internally, and solving a few problems along the way.
At the moment, the first thing needed is a construction office. It'll hire construction workers to build the rest of your rooms. Only one construction worker can be dispatched to a newly built room at a time from each individual construction office, but building more offices can speed up the process of building a new room. Once rooms are built, they'll have various requirements before people will rent them, or show up to shop at stores or eat at restaurants. Hotel rooms can be rented out, but will get dirty once everyone has left for the day, so they'll need to be cleaned regularly. Security personal will occasionally need to be dispatched to rooms in case of threats. Rooms have a variety of factors that go into keeping high rating, from surrounding noise and beauty levels to how happy their tenants are, to how much money they're making per day.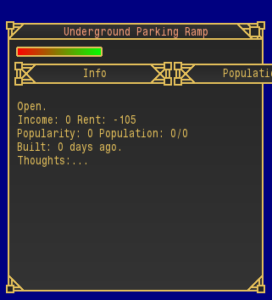 There are still plenty of systems and other things to add and improve upon within the game. However, most of the major functions of the rooms are in place, so today, I've begun working out the interface layout that shows up when you query a room (seen above). This is not final (it needs a fair bit of work, obviously), but it contains all of the information about the room that the player will need. the red to green rectangle is the rating indicator, which will provide more detailed information when the player hovers over it. The three buttons will turn into tabs (defaulting to showing the info panel), and the info panel contains details from the income of the day and current rent price to how old the room is and "thoughts" which are more like messages from the room itself (and where you can find out if you're missing a requirement or similar things).